CRISM
CRISM (Canadian Research Initiative in Substance Misuse) provides a Canada-wide research network in the field of substance misuse, where members work together to generate the knowledge base necessary to improve current addiction treatment paradigms.
CRISM was designed to facilitate communication and collaboration among addiction service providers, researchers, and policy-makers. The four regional CRISM Nodes, in BC, the Prairies, Ontario, and the Quebec-Atlantic region, began their operations in 2015.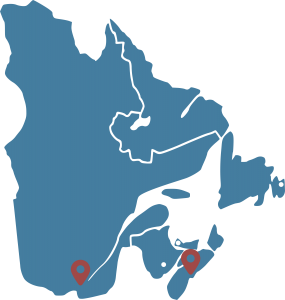 QUEBEC-ATLANTIC NODE
The Quebec-Atlantic Node plans to contribute to CRISM with projects that accelerate the transfer of scientific knowledge towards the development of new treatments, including pharmaceutical approaches and psychological interventions for people who use substances.
Objectives
The overarching goal of the Quebec-Atlantic node is to provide a dynamic research environment where partners from the community and the clinical world identify crucial needs and priorities in terms of addiction response. Together, they develop interventional research projects in the area of substance misuse.
Priorities
The Quebec-Atlantic node priorities are development, evaluation and dissemination of interventions along four themes: poly-substance use problems; mental health comorbidities; pain; and medical comorbidities.
Development

Evaluation

Dissemination
MEMBERS OF THE QUEBEC-ATLANTIC NODE
In 2022, the Quebec-Atlantic Node counts over 240 active members. The node brings together researchers from many universities and institutions, clinicians, policy-makers, administrators, physicians, and representatives from user groups and actors intervening in different stages of support programs for people with substance use disorders in Quebec and Atlantic provinces.