Quebec-Atlantic Node
The Quebec-Atlantic Node is contributing to the CRISM consortium with projects aimed at accelerating the transfer of scientific knowledge towards the development of new treatments, including pharmaceutical approaches and psychological interventions for drug users.
The different areas of expertise of the Node's researchers and collaborators will inform multi-site observational studies and randomized controlled clinical trials (RCT) on the various care options for people with a substance use disorder. They will also contribute to the development and evaluation of new evidenced-based preventive methods.
The team includes researchers from several universities and institutions, clinicians, policy makers, administrators, practitioners, and representatives of substance users' groups as well as individuals in different stages of support programs for persons living with substance misuse problems in the Atlantic Provinces and Quebec. The collaboration of major associations brings together stakeholders and organizations working in addiction prevention, rehabilitation, therapy, hospitals and our network of community partners, allowing our node to extend beyond the urban centers. Priority is given to the most vulnerable populations, including women who inject drugs, at-risk youth, aboriginal people in correctional facilities, and those transitioning from rural to inner-city environments.
For more information, visit the CIHR page.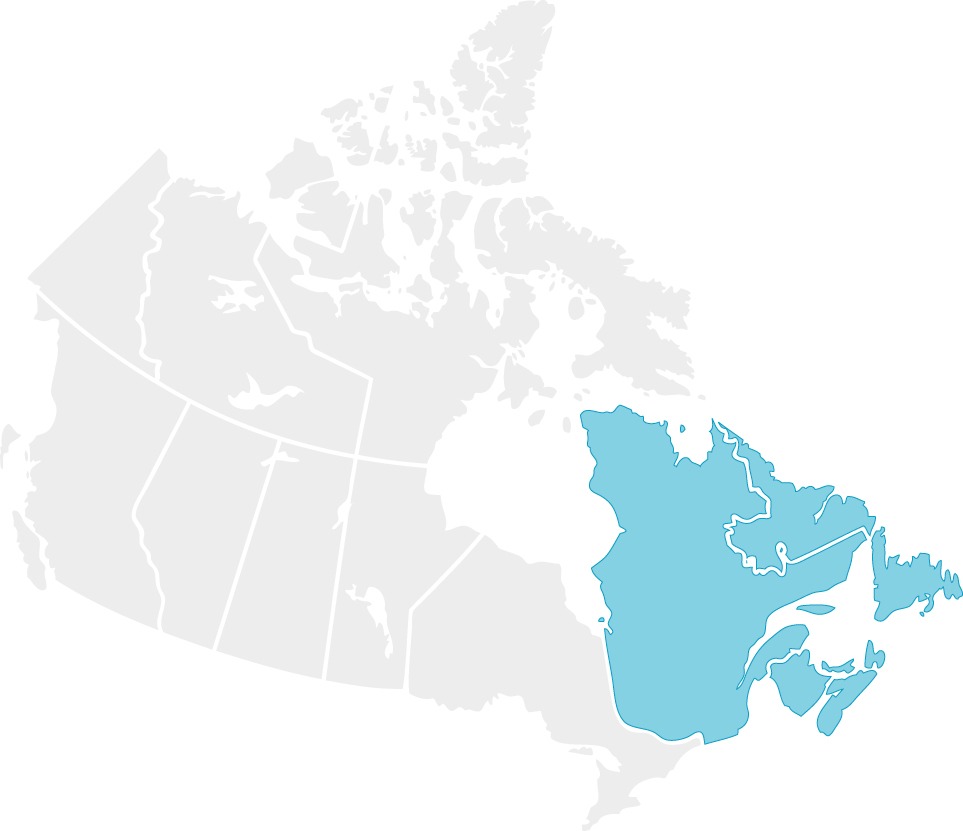 Objectives
The overarching goal of the Quebec-Atlantic node is to provide a dynamic research environment where partners are engaged to identify crucial needs and priorities, and work together toward the development and implementation of intervention research in the area of substance misuse. The Quebec-Atlantic node priorities will focus around development, evaluation and dissemination of interventions along four themes: poly-substance use problems; mental health comorbidities; pain; and medical comorbidities.
The Node program consists of these complimentary activities
1. Demonstration projects
A first demonstration project will focus on novel personality-targeted interventions to address polysubstance misuse amongst methadone maintenance clients recruited in two provincial jurisdictions (Nova Scotia and Quebec). A second demonstration project will evaluate a peer-to-peer training and intervention program, initiated by a community-based organization, whose objectives are to increase access to naloxone for the prevention of opioid overdose, and to test the capacity for community-initiated projects to implement results.
The Quebec-Atlantic Node wants to act as a catalyst for its members, and support their research projects that reflect the node's priorities. We have established a working group structure as an integration mechanism to favor researchers and knowledge users' involvement and research development program to support our members in an increasingly competitive research grant landscape. This Research development is part of the key to our nodes growth by contributing node resources to promising research protocol that have a better chance at receiving funding thus creating opportunities to grow the node and network through research.
3. National Clinical Trials
National Research projects: whether it be the OPTIMA trial or the National Guideline on the clinical management of Opioid Use Disorder, The Quebec Maritimes node is committed to strong research collaborations with its counter nodes to contribute to evidence base knowledge on opioid use disorder interventions.