HCV Virtual Cascade of Care Cohort (VCCC)
Research shows that a large number of individuals infected with HCV do not receive treatment, even though HCV is a curable disease. The goal of the VCCC study is to understand why and determine what can be done to improve access to health care for people who use injection drugs (PWID).
The Virtual Cascade of Care Cohort (VCCC) study is an innovative multi-centre observational prospective cohort study combining in-person data collection with administrative data linkage to efficiently document and analyze the HCV cascade of care among vulnerable populations of former or current people who inject drugs. By considering how PWID with differing markers of vulnerability navigate the HCV cascade of care, this study will guide tailored interventions and inclusive policies that ensure all PWID living with HCV access treatment.
Our Goal
Our goal is to build a better understanding of the extent to which PWID across Canada are engaged in HCV care, and how this relates to broader patterns of service use and life circumstances.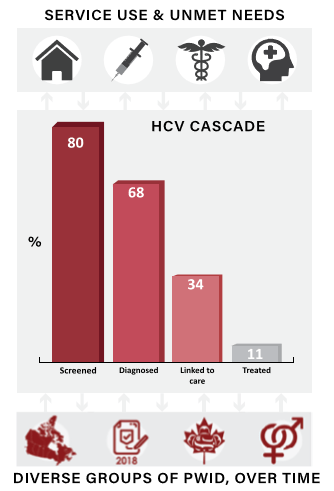 Feasibility Study
The VCCC feasibility study was funded by the Canadian Network on Hepatitis C (CanhepC). Pilot projects were conducted in Quebec and Saskatchewan, in partnership with the University of Saskatchewan.
Five Community Partners participated in the Quebec study:

0
Participants recruited in Quebec
0
Participants recruited in Saskatchewan
TESTIMONIALS
Through the protocol, participants had the opportunity to express themselves and share their experiences with the health care system. The information collected through the VCCC will be used to improve and better adapt the services offered to the community.
"The questionnaire is not complicated and I felt heard." – Participant

"I did not feel judged. I'm glad someone has the initiative to do this type of study." – Participant
Some Preliminary Data from the Quebec Feasibility Study