Dissemination of results in progress
Context
Prevention and treatment of opioid use disorder (OUD) has become an urgent public health priority in Canada.
Although methadone has long been the standard of care for the treatment of opioid use disorder in Canada, there is growing consensus that the superior safety profile of buprenorphine/naloxone, as well as other comparative advantages, supports its use as a first-line therapy for opioid use disorder. The OPTIMA trial aims to evaluate these two treatment options within a Canadian practice‐based framework, generating evidence that is directly relevant to a recognized national priority in public health.
Objectives
Evaluate and compare the effectiveness of two different models of care for the treatment of prescription opioid use disorders (methadone and buprenorphine/naloxone) to improve patient care.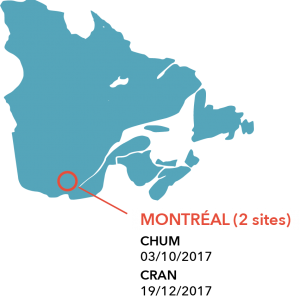 0
Randomized participants (QC)
0
Participants completed the study protocol (QC)
Cameron Wild, PhD

Prairies NPI

Evan Wood, MD, PhD

British Columbia NPI

Julie Bruneau, MD, MSc

Quebec-Atlantic NPI

Jurgen Rehm, PhD

Ontario NPI
Regional principal investigators
Bernard Le Foll, MD, PhD

Ontario Node

Eugenia Socias, MD

British Columbia Node

Keith Ahamad, MD

British Columbia Node

Ronald Lim, MD

Prairies Node
Aïssata Sako

Program Director

Jill Fikowski, MPH

National Research Coordinator
Clinical research coordinators
Amel Zertal, MSc

Clinical Research Coordinator - Quebec-Atlantic Node

Angela Wallace

Clinical Research Coordinator - Prairies Node

Benita Okocha, MSc

Clinical research coordinator - BC node

Leanne Trick, MSc, PhD

Clinical Research Coordinator - Ontario Node