National project : OPTIMA
Prevention and treatment of opioid use disorder (OUD) has become an urgent public health priority in Canada. To develop novel and more efficient treatment programs based on the real needs of individuals afflicted by prescription OUD, a strong foundation of evidence-based data is necessary and can only be built via large-scale multisite interventional studies such as OPTIMA.
Currently, opioid substitution is a widely used approach to treat patients addicted to prescription opioids. In Canada, methadone has long been the main standard of care treatment for opioid use disorder. The use of this synthetic opioid is heavily regulated given the risk of overdose and diversion toward the illicit market.
Recently, buprenorphine/naloxone has become a common alternative treatment appreciated by both clinicians and patients. However, while buprenorphine/naloxone has a better tolerability and safety profile than methadone, the model of care that was put in place for its use has been designed based on the strict methadone model. Therefore, there is a clear need for evaluating more adapted models of care that could facilitate buprenorphine/naloxone use in treatment settings.
Hence, the OPTIMA study will evaluate and compare these two different models of care for methadone and buprenorphine/naloxone, so to inform the Canadian clinical practice about the optimal use of these approaches.
The OPTIMA team
In response to CIHR's request to develop a comprehensive governance and communication strategy, the OPTIMA Governance & Communication plan was developed and became effective September 9, 2017. In brief, the Regional Principal Investigators (D Jutras-Aswad, B Le Foll, R Lim, E Socias, K Ahamad; RPIs) are responsible to CRISM for study performance at their respective Nodes. One of the Regional Principal Investigators, D Jutras-Aswad (RPI for the Quebec/Maritimes Node), has been designated as the Lead Regional Principal Investigator (Lead RPI). The CRISM Nominated Principal Investigators (J Bruneau, B Fisher, C Wild, E Wood; NPIs) act as the Steering Committee and provide overall direction to OPTIMA to ensure cohesive strategies and alignment with the mandate of CRISM. The Lead RPI is responsible for overall trial implementation and for providing oversight at a national level, and joins the Steering Committee.
Cameron Wild, PhD

Prairies NPI

Evan Wood, MD, PhD

British Columbia NPI

Julie Bruneau, MD, MSc

Quebec-Atlantic NPI

Jurgen Rehm, PhD

Ontario NPI
Recruitment and data collection completed.
0
Randomized participants (QC)
0
Participants completed the study protocol (QC)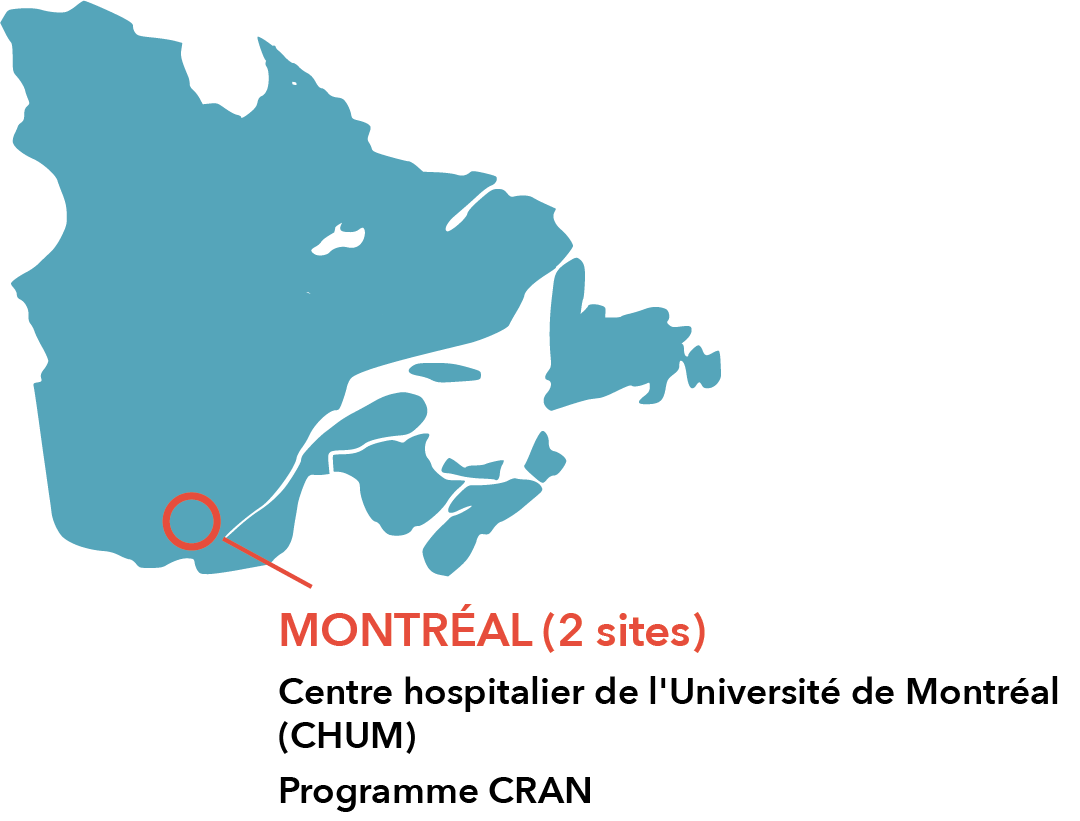 OPTIMA regional principal investigators
Bernard Le Foll, MD, PhD

Ontario Node

Didier Jutras-Aswad, MD, MSc

Quebec-Atlantic Node - Lead RPI

Eugenia Socias, MD

British Columbia Node

Keith Ahamad, MD

British Columbia Node

Ronald Lim, MD

Prairies Node
Aïssata Sako

Research program director

Jill Fikowski, MPH

National Research Coordinator
Clinical research coordinators
Amel Zertal, MSc

Clinical Research Coordinator - Quebec-Atlantic Node

Angela Wallace

Clinical Research Coordinator - Prairies Node

Benita Okocha, MSc

Clinical research coordinator - BC node

Leanne Trick, MSc, PhD

Clinical Research Coordinator - Ontario Node