The Quebec-Atlantic Node aims to act as a catalyst for its members, and support their research for projects that are in accordance with the Node's objectives and priorities. We have established a working group structure as an integration mechanism to favor the engagement of researchers and knowledge users with various perspectives into new and existing projects, and to facilitate the access to expert resource persons in the field.
The existing working groups are focusing on 4 major themes
To join an existing working group or to propose ad hoc projects, members are encouraged to take advantage of the Quebec-Atlantic Node Research Support & Development program.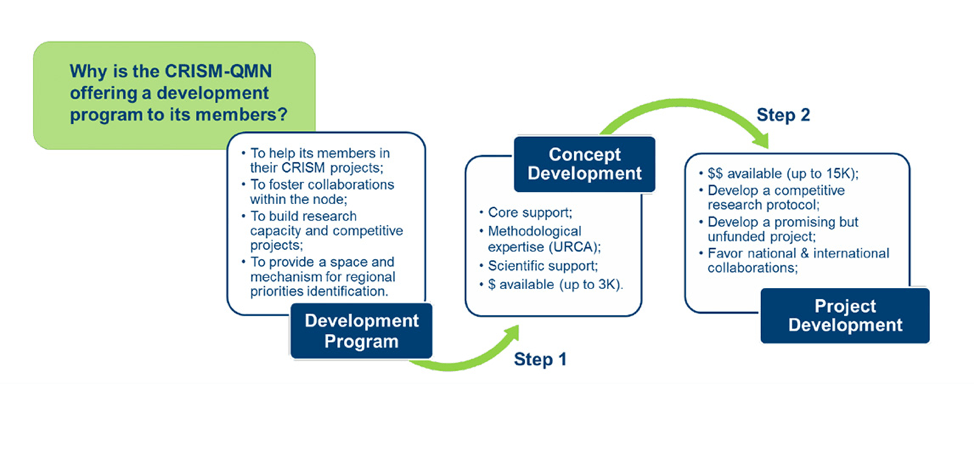 Objectives of the Research Development Program (RDP)
Researchers, knowledge users, and other members of the Quebec-Atlantic node are invited to submit a project proposal that prioritizes interventions with populations experiencing or at risk for problematic use of opioids and other substances. The Quebec-Atlantic node wants to support researchers of the node in the development of research projects and protocols that aim to improve the practices (prevention or treatment) for groups and people affected by this problem, and contribute to the field's knowledge with new evidence. Although this competition is aimed more specifically at researchers within the node, we strongly recommend individuals interested in applying to the RDP to partner with the clinical collaborators, community members, or stakeholders of the network.
 Categories of Admissible Research Activities
Applicants are invited to submit a concept sheet proposal to obtain financial support in order to:
Generate preliminary data or structuring activities (for example, inter-sectoral consultations, collection, or organization of data) related to the development of a new research protocol;
Develop a new research protocol for submission to a recognized granting agency;
Improve a research protocol that has already been submitted, well assessed but has not received the funding requested in the competition.
A maximum of $10,000 can be awarded to an emerging project proposal (category 1 or 2). A maximum of $15,000 can be awarded to a promising project proposal (category 3). Number of awards will depend on funds available.
Step 1: Concept Development
Members of the Quebec-Atlantic Node, either researchers or knowledge users, who are seeking to implement preliminary steps of an interventional research protocol are invited to submit a letter of intent to the Node Steering Committee.
Developing a project concept sheet that is in line with the Node's objectives and priorities will allow you to benefit from scientific and logistic support, and have access to an experienced team with strong methodological expertise.
The goal of the concept development phase is to prepare and build the foundation of a solid and competitive funding application. Depending on the project and conditional on the approval of your protocol by the Steering Committee, some funding (up to $3 000 CAD) might be available in Step 1.
Step 2: Project Development
Researchers who already have a research protocol that was well-evaluated in competition without receiving funding may submit a letter of intent to access the Step 2 of the program. In Step 2, appropriate resources will be offered to overcome the weaknesses identified by previous reviewers and strengthen the protocol before resubmitting in another grant competition. In Step 2, as deemed necessary by the Steering Committee, a non-renewable lump sum of up to $15 000 might be available on a project need basis.
For more information on the Quebec-Atlantic Node research priorities or on the Research Support & Development program, please contact Aïssata Sako: aissata.sako.chum@ssss.gouv.qc.ca