Who are we?
The Quebec-Atlantic Node includes researchers from several universities and institutions, clinicians, policy-makers, administrators, practitioners, and representatives of substance users' groups as well as individuals in different stages of support programs for people living with substance misuse problems.
The expertise and experience of node members and team make it a dynamic and productive space in which large scale and innovative research projects are carried out. Its activities contribute to the development, implementation and evaluation of new evidence-based preventive methods.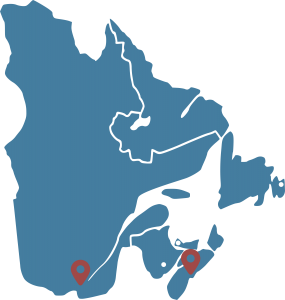 Its offices are located at the CHUM Research Centre in Montreal and at Dalhousie University in Halifax. These are the meeting points for researchers and members of Quebec, Nova Scotia, New Brunswick, Newfoundland and Labrador, and Prince Edward Island.
MAIN ACTIVITIES
The node program is composed of three complementary activities:
OBJECTIVES
The overarching goal of the Quebec-Atlantic node is to provide a dynamic research environment where partners from the community and the clinical world identify crucial needs and priorities in terms of substance use. Together, they develop interventional research projects in the area of substance misuse.
The Quebec-Atlantic Node contributes to CRISM with projects that accelerate the transfer of scientific knowledge to healthcare providers. These projects make it possible to develop better clinical and psychosocial practices in the care of people with a substance use disorder.
The node extends beyond the urban centres thanks to the strength of its network of partners. It includes psychosocial workers, hospitals and many organizations working in the field of harm reduction and substance use.
Research priorities
Sex and gender;
Indigenous populations;
Youth populations;
Non-opioid/non-cannabis-related topics