COVID-19, Substance Use, and Safer Supply: Clinical guidance to reduce risk of infection and overdose
8 April 2020 @ 16 h 00 min

-

17 h 00 min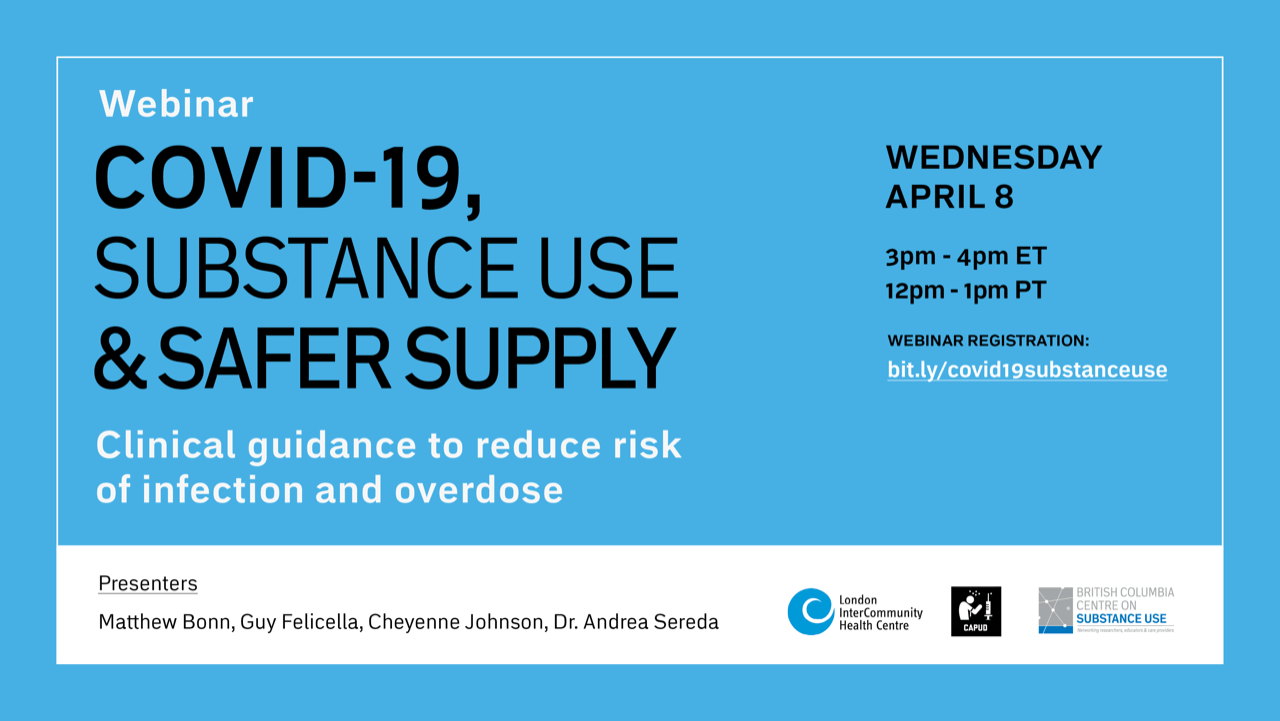 This webinar will provide prescribers, pharmacists, and other allied health care workers background on mitigating risks through safer supply.
The COVID-19 pandemic and ongoing overdose crisis are creating compounded risks for people who use substances, including the risk for overdose and other harms related to an increasingly toxic illicit drug supply, the risk of infection and spread of infection among those with underlying health conditions and who face social marginalization, and risks due to withdrawal for those who must self-isolate or quarantine to prevent the onward spread of COVID-19.
The BC Centre on Substance Use has developed clinical guidance to health care providers to support patients to mitigate these competing priorities and compounded risks and enable social distancing and self-isolation measures, where possible, to reduce and prevent the spread of COVID-19. This guidance is not intended for treatment of substance use disorders but rather to support individuals with substance use disorders to self-isolate or social distance and avoid risk to themselves or others.
Presenters:
Guy Felicella, Peer Clinical Advisor, BC Overdose Emergency Response Centre (OERC)
Cheyenne Johnson, Co-Interim Executive Director, BC Centre on Substance Use (BCCSU)
Dr. Andrea Sereda, Family Physician, London InterCommunity Health Centre (LIHC)
Matthew Bonn, Program Coordinator, Canadian Association of People Who Use Drugs (CAPUD)