The costs and consequences of substance misuse are far-reaching – they affect the users, their families, and the society as a whole.
Over the past decades, it has become obvious that the most effective intervention and prevention plans for people living with substance misuse are those originating from solid evidence-based groundwork. In fact, many evidence-based approaches have shown excellent results so far, but only for a limited number of persons living with substance misuse because widespread implementation strategies are lacking.
In Canada, addiction research has been mainly performed in a local manner by geographically isolated research groups, limiting the communication between stakeholders (i.e., clinical research teams, patients, clinicians, and policy makers), and preventing the translation of valuable evidence-based data into better prevention and treatment programs.
As a result, the Canadian Institutes of Health Research (CIHR), based on an initiative from the Institute of Neurosciences, Mental Health, and Addiction (INMHA), funded outstanding grant applications from the scientific community across Canada in 2013-2014 to create the first Canada-wide interventional research network in addiction medicine, called the Canadian Research Initiative in Substance Misuse (CRISM).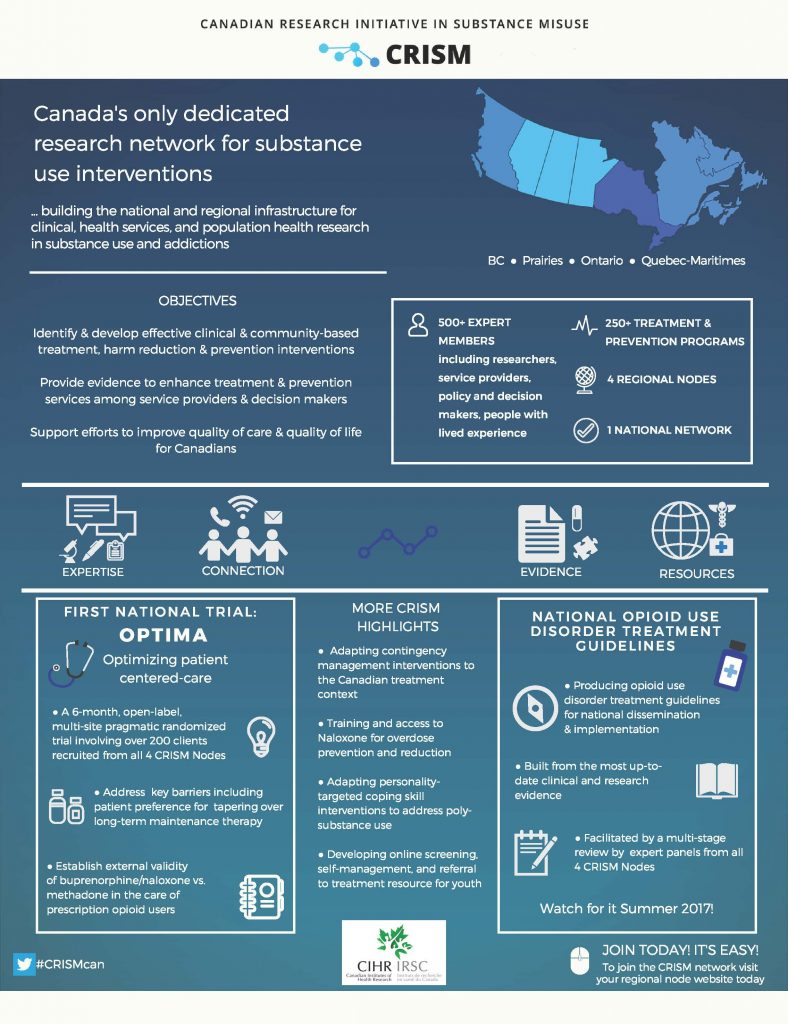 Modeled partly after the Clinical Trial Network of the National Institute on Drug Abuse (NIDA), the CRISM provides a functional Canada-wide interventional research network in the field of substance misuse, where members work together to generate the knowledge base necessary to improve current addiction treatment paradigms.
CRISM was designed to facilitate communication and collaboration among addiction service providers, researchers, and policy-makers. In September 2015, four regional CRISM Nodes, one each located in British Columbia, the Prairies (Alberta, Manitoba, Saskatchewan), Ontario, and the Quebec-Atlantic region (Nova-Scotia, Newfoundland and Labrador, New Brunswick and Prince-Edward-Island), began operations.
National Executive Committee
Cameron Wild, PhD

Prairies NPI

Evan Wood, MD, PhD

British Columbia NPI

Julie Bruneau, MD, MSc

Quebec-Atlantic NPI

Jurgen Rehm, PhD

Ontario NPI